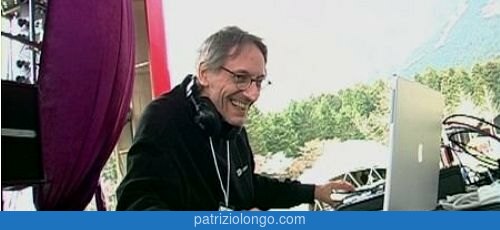 I always have been curious listening to your works: should I con sider you as a multi-instrumentalist, a composer or a skilled experimentalist?
All of that, I hope 🙂 First you have to learn to play your instrument (one or more) to know how to produce any sound at all. For a composition you have to begin to understand formal structures and musical theories, and finally you are able to start with your own experiments.
Do you represent a link between New Age music and the modern Dance music scene?
I don't think in terms like this. I began to develop my music years before these terms were existing. To create my own style I used elements of classical music, blues, rock, soul, funk, latin, and of course minimal music. And because I was always interested in new technologies I used a lot of electronic equipment to make it all happen. Therefore I might be well named as one of the representatives for the development of music in the last 30 years. But my album "New Age Of Earth" (1976) has nothing to do with New Age music, this musical term was invented years later, and E2-E4 was never intended to be a piece of Dance music. "New Age Of Earth" contains elements of minimal music, blues and pieces for classical string orchestras performed and combined with a variety of more and less abstract electronic sounds. On the other hand "E2-E4" represents my great interest in the development of sequenced/pattern like music at the time, which is definitely the basis for many music that people play today with their computers programs.
The album E2-E4 is a classic of yours and was recorder in 1984 but was published three years later by Klaus Schulze. Why all this time? Did not believe in your innovative project?
I recorded the track in December 1981 (not 1984), but I decided not to give it to Virgin Records with whom I had a conctract before, so it was only in the beginning of 1984 when Schulze founded a new label, looking for companions. You can read the story on the cover of the 25th anniversary edition of E2-E4 which is by the way limited and wont't be re-released this way anymore, so everyone should hurry up to buy it as long as it is available, also at my website ashra.com :-)))
E2-E4 is your masterpiece. Why did you decide to make a 60-minutes track?
After the release of "New Age Of Earth" (which was recorded without the use of any sequencer by the way) I started working with multiple sequencers. I made some performances and recorded quite a few sessions in my studio. But it took some years to further develop this direction because in between I was busy producing the albums "Blackouts" (1977), "Correlations" (recorded 1978, realesed 1979) and "Belle Alliance" (recorded 1979, released 1980) and being on tour with my band ASHRA. After "Belle Alliance" I took a break from the band and returned to my idea of working on a new solo album. When I recorded "E2-E4" it was not meant to be my new solo album, but after a while I found out it would be just the right thing to conclude my work of the previous years. But I do not think that "E2-E4" is "better" than "Inventions for Electric Guitar" (1974) "New Age Of Earth" (1976) or "Blackouts" (1977). It only attracts another group of people: E2-E4 was "discovered" by Larry Levan in the NY Paradise Garage, so it was a new audience coming in through the DJs who felt attracted by it more than others. New was also the length, Larry never mixed or played a part of it but always the whole piece. Today also the New Music people have discovered it. The album "Inventions for Electric Guitar" was always much more the favourite of a guitar- and experimental music orientated audience than by DJs, and so is "New Age Of Earth", especially "Sunrain" which is an absolutely pattern based composition, as if it was made for modern computer programs, but this was future then, as computers have not existed yet!
I reworked this piece for my performances in Japan and Poland in 2006, you can hear that on the most recent releases "Live at Mt. Fuji" (CD 2007) and "Wroclaw Live" (DVD 2007).

With Ash Ra Tempel and the guitar loops in "Inventions For Electric Guitar" (particularly "Echo Waves") you demonstrated looking foward combining experience and technology, best represented in E2-E4. When was this fusion between art and sound-engineering born?
I don't know if I understand your question correctly, but to avoid any confusion: Ash Ra Tempel was a band were members and guests went in and out. The only consistent line-up until 1973 were the bass-player Hartmut Enke and me. From 1973 on, when Harmut quit music for good, I continued to perform and record under the name Ash Ra Tempel and later Ashra, sometimes with new members and guests, but more ane more solo. "Inventions for Electric Guitar" was my first SOLO recording, the second was "New Age Of Earth" and then "Blackouts". Finally, "E2-E4" was the first release with only my name Manuel Göttsching on the cover.
I was always interested in the technology, from the classic guitar to the electric guitar, from keyboards and synthesizers to the facilities of today's computer programs. If you want to create a certain sound you have to know how to make it. In the beginning I just tried to imitate what I heard, later I learned a lot in the studios where we recorded. It was only natural that I started to build my own studio and over the years playing music and using the technology became just one thing, otherwise you would be rather limited in your experiments. With "Inventions" I explored the guitar (I did not use any loops by the way, it is all played from the first note to the very last!), with "New Age Of Earth" I experimented with keyboards and synthesizer, and "E2-E4" was just the next logical step with sequencers and guitar. But without the technological knowledge I would have never made these albums.
In E2-E4 you left in some aspects the use of guitar and generally of instruments becoming a real sound-engineer, constructing instruments that will be a lesson for many generations. Did the union of guitar and sequencer represent the evolution of your art?
"E2-E4" is a perfect union of electronics and guitar, indeed. But this is only one of the many aspects that interest me in music. For some years I am now working on compositions for orchestra, trying to transfer my ideas on to orchestra instruments. I was rather inspired by the work with the Zeitkratzer ensemble with whom I performed and recorded E2-E4 live. (You might also know them from their work with Lou Reed or Xenakis). On the other hand I am trying to develop new ideas within the new aspects of computer programs. And I also think of playing with my band again. I remember the great times, the powerful music, and all the experiences I had with Ash Ra Tempel and later with ASHRA. We are currently re-releasing some ASHRA albums (the ones I produced with the band) on my own label MG. ART now, as they are sold out: "Belle Alliance" will be a double album, including the original and some additional tracks that were to long for the original LP release. This re-release will be a kind of "plus Belle Alliance".
The other re-release will be a 5-CD-Set, includig the remastered original "Correlations" album, and the rehearsal sessions to the tracks, which had been separately released before as a limited edition under the title "The Making Of" as a 3-CDs-box. But the box was sold out immediately so time for a re-release 🙂 In addition there will be the first unreleased mix of "Correlations", which sounds a little more simple, yet spacy, more electronic, and which reflects quite well the various stages we went through with this production

Can we call you the inventor of modern electronic music?
(laughs,) I don't think any individual can claim to be the inventor, but I surely played my part… only time can tell what will last. I knew for myself that "E2-E4" was a pretty good piece of music, but in 1981 I would not have expect it being such a big influence until today 🙂
When did you learn to play blues guitar?
I began a training in classic guitar when I was 9 or 10 which is a very different technique compared to the electric guitar. It was around 1968 when I was 16 when somebody showed me some basic techniques of playing blues guitar and, I studied all the music from Cream, John Mayall's Bluesbrakers, Jimi Hendrix, the early Fleetwood Mac.
Whats' the secret creating unforgettable music like yours?
My love to play guitar, my passion for experiments and to have imaginations, my family – my life. People who know me use to say that my music is the mirror of my soul. Maybe this is true 🙂
What are you listening right now (maybe a strange question)?
(maybe a strange answer:-) If I feel like having some music – I make music.